SIX MONTHS ON A TALL SHIP
WHILE DOING YOUR SCHOOLWORK
TO THE CARIBBEAN AND BACK

It is time, time to open up to new things and step out of your comfort zone. It is time for School at Sea. Sail to the Caribbean and back while continuing your regular school curriculum. Tap into your creativity during expeditions. Develop personal, nautical and leadership skills while taking part in our renowned sail training programme. Make friends for life and say goodbye to your old limitations. School at Sea will take you further than you ever thought possible. Are you in your second or third year of higher education? Sign up for our information session and sail with us when you're in your fourth or fifth year.
Fast forward yourself. Challenge your world. You sail. You learn.
Apply for School at Sea 2021-2022!
How? We would love to tell you in person! Click the button below to sign up for one of our many information sessions aboard our office ship in the city centre of Amsterdam.
The application procedure for School at Sea 2019-2020 has been closed. There are still places available for School at Sea 2021-2022.
Challenge your world!
"I HAVE LEARNED TO TRUST OTHERS. TOGETHER YOU CAN ACHIEVE BETTER RESULTS."
MIX IT UP
Combine your regular school curriculum with sailing a tall ship across the Atlantic Ocean and expeditions ashore in the Caribbean. Together with 30 other students. For six months. Are you ready? Come aboard and Challenge your World.
SCHOOL
​Prepare for tests independently and individually during school days at sea, and keep up with your classmates at home so you don't miss anything.
Expeditions and independent journeys
Go ashore and discover new places, other cultures and apply what you have learned.
SAILING
Navigate, set the sails, cook, clean and maintain the engine. On watch days the ship is yours.
EXPEDITIONS AND INDEPENDENT JOURNEYS
Go ashore and discover new places, other cultures and apply what you have learned.
SAILING
Navigate, set the sails, cook, clean and maintain the engine. On watch days the ship is yours.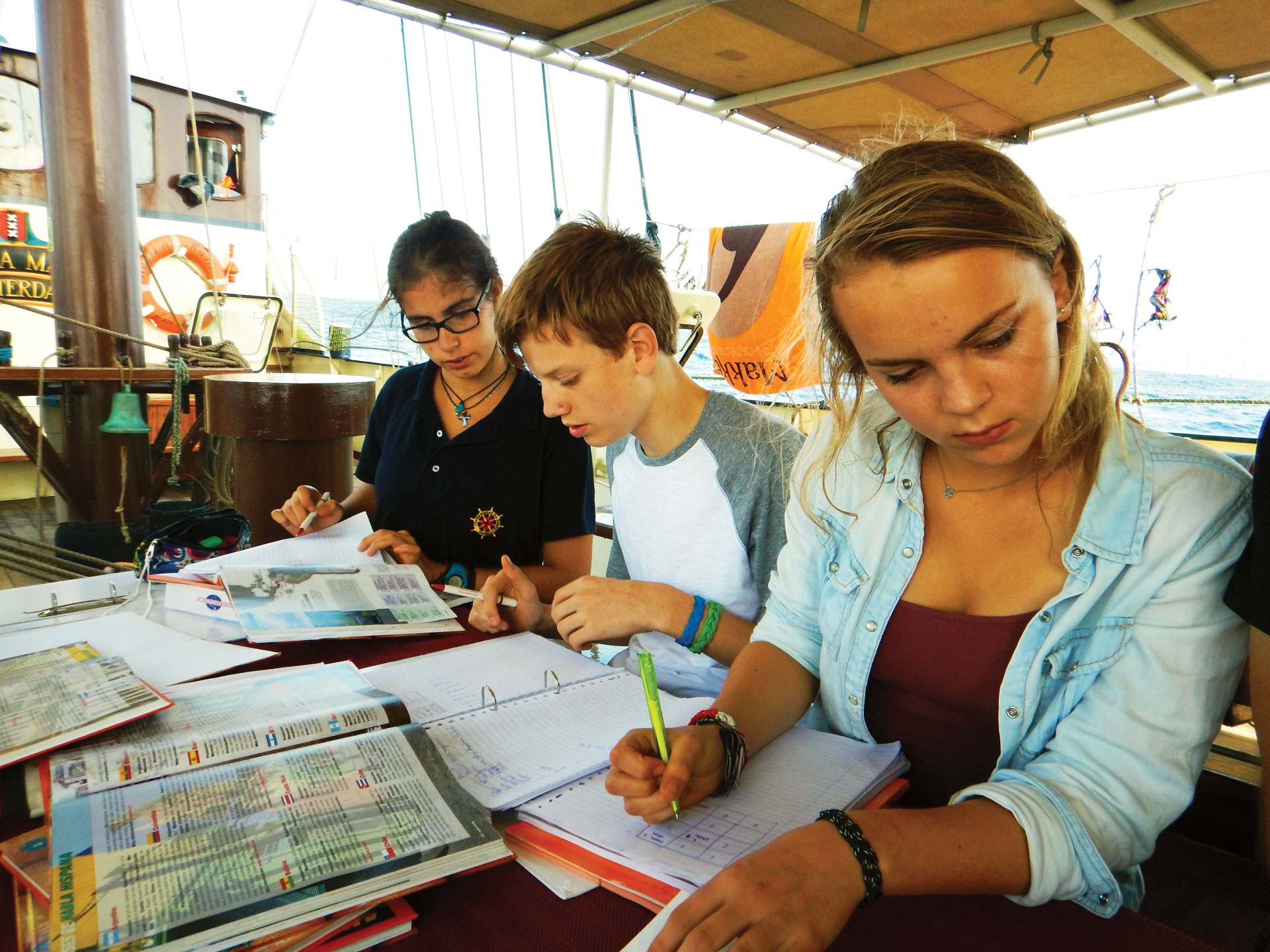 FundRaising PROGRAM
Before getting aboard: how do you prepare for looking after yourself, far away from home? How can you gather the funding to pay for your trip? The Fundraising Programme offers you and your parents a three-step process to get everything you need and need to know to join our ship.
StEp 1: InfoRMATION SESSION
Get to know the team and the crew, and get all the information you need about the ins and outs of School at Sea.
At the information sessions you will learn what it takes to look after yourself for half a year at sea. And you will also learn that you are not on your own!
You will learn what to expect and you will have the opportunity to find the answers to all the questions you may have about life on board. It is the perfect starting point for the challenge of a lifetime!
Sign up now for the next free information session in Amsterdam and Challenge your World!
StEp 2: CoachING SESSIONS
Prepare yourself for your trip mentally and financially, together with your personal coach.
Half a year away from home is not something to be taken lightly. It costs a lot of money and a lot of motivation. You could use all the support you can get! Your School at Sea coach will help you on your way.
In three sessions you will work out what your personal strengths are, together with your coach. You will also set up a financial plan. Your coach will stay in touch to keep an eye on your progress.
This will help you to gain more confidence  and you'll be able to enjoy this challenge of a lifetime to the fullest.
StEp 3: SelectiON
One final check of your motivation and your capabilities to see if you are ready.
School at Sea is a talent development programme for your individual talents, but we're also all about teamwork! You and over thirty other students have to get along, because you will be living together for six months.
What are your strengths and weaknesses? What can you teach others and what can you learn from them?
THE SHIP
Impressive, fast, comfortable. Our ships have sailed many seas and have proven to be reliable in any and all weather conditions.
THE TEACHERS
All of our teachers are certified. They will join you for the entire trip and help you with your courses and planning.
THE CREW
Our experienced crew members are certified. They know the ship inside out and will teach you all you need to know to sail the ship yourself.
THE TEAM
We help you make arrangements with your school and other paperwork. The team also helps out in unforeseen circumstances.
SHIPFINDER
Check where School at Sea is right now:
CONTACT
Want to know more? Send us a message and we'll get back to you.